FOOT HEALTH
IN THE COMFORT OF YOUR OWN HOME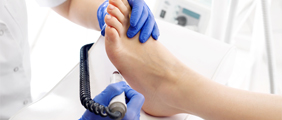 Our feet do a lot for us on a day to day basis, so it is important to look after them in order to remain pain free and avoid the risk of infection or ulcers – all of which may be impossible if ingrown nails, corns or callus are left untreated.
When disorders such as a corn cause us pain, they may make us limp as we try to reduce pressure through the affected area as we walk.  Knee, hip or back pain may then occur as we are out of alignment, so you can begin to see how something that small could eventually make life even more painful.
This treatment is great for people who cannot reach their feet due to mobility or flexibility issues, and is especially important for those whose feet are considered 'high risk', with conditions such as rheumatoid arthritis, diabetes, vascular disease and neurological issues such as reduced sensation.  You may not be aware that your shoe is rubbing, or that you've trodden on something sharp that results in an open wound and increased susceptibility to infection due to poor blood flow.
The main aim of an appointment, therefore, is to ideally provide general maintenance so to prevent injury/infection or to manage any complication to prevent it from getting worse.
WHAT TO EXPECT
Our initial appointment will begin with a full consultation including medical history and current medications. Every session is confidential and your full disclosure is essential for me to safely tend to your foot care needs.
The session thereafter generally lasts between 45 - 60 minutes, depending on your needs at the time. Appointments can be 6-10 weeks apart depending on how quickly your nails grow.  I may need to see you sooner if a particular condition is being treated, but a full treatment plan will be discussed and agreed upon together.

Please note that it would be helpful to conduct the session in a room with good lighting.

Please remove any nail varnish prior to my arrival. Failure to do so will mean I cannot cut your nails, as I won't be able to see how much needs to be safely removed or the condition of your nails.

The service I provide includes dealing with:

•    Finger and toenail cutting/filing
 
•    Corn removal
 
•    Callus  reduction
   
•    Ingrown nails
   
•    Athlete's foot  
   
•    Thickened nails

•    Diabetic foot assessments
Please note that I am a Foot Health Professional and have been awarded a diploma in foot health.  A podiatrist is a professional who has a degree and is also able to use local anaesthetic and carry out minor surgery.

Should the treatment you require be outside of my remit, I will not hesitate to advise and/or refer you to your GP or a podiatrist as appropriate.  Your care is my priority.