Relax and Revive Massage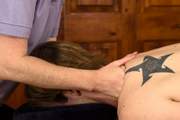 Everyone is individual and at Relax and Revive Therapies tailored treatments are given with a no-routine approach.  The aim of massage is to help calm and relax the mind and body, improve blood flow to the massaged areas and relax soft tissues. 
Benefits may include:
♦ easing of stress and anxiety
♦ improved sleep
♦ improved mood
♦ easing of general aches, pains and stiffness
♦ reduced headaches
♦ reduced chronic muscular tension
♦ increased sense of wellbeing
"Vanessa is very intuitive and has a good instinct. She finds tension without me having to say and finds muscles that I hadn't realised were tense. Absolutely fabulous!" 
Serena - office manager
Holistic Massage
Depending on how you are at the time of your appointment, which will be discussed during the initial consultation, treatments can be given using a variety of techniques.  These include swedish, remedial and deep tissue massage, mobilisation, stretching, rocking and pulsing, all whilst lying on a comfortable massage couch.
Whether you would like a pampering full body massage to rid yourself of stress, or something more focused in order to work on a particular issue you may be experiencing, your needs and expectations are paramount.
Communication is vital, so always tell me if you prefer some techniques over others or experience any pain or discomfort so that we can work together to ensure you get the most benefit out of your session.
Seated Massage
This is a 30 minute clothed, upper body massage.  It can be carried out either on a fold-out chair, or on a comfortable ergonomically designed chair depending on your state of health and how mobile you are.  Seated massage can also be given whilst in a wheelchair. 
As this massage can be given pretty much anywhere, it's wonderful for those of you who are restricted on space or who have difficulty with getting on and off of a massage couch.  The shorter treatment means that it's great if you are limited on time. 
Seated massage can also be provided in 10, 20 or 30 minute sessions at events such as fetes, fayres or pamper evenings.
In an office environment, it's perfect for combating the mental and physical stresses and strains of being sat at a desk for long periods. Corporate massage maybe the way to show your staff that you care about their health and morale.