Relax and Revive Indian Head Massage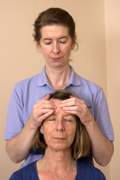 Indian head massage is based on the Ayurvedic system of healing, and traditional family techniques, which have been practiced in India for thousands of years.
Indian head massage has continued to evolve in the Western world and involves massage to the upper back, arms, hands, shoulders, neck, head, scalp and face. 
This is a wonderfully relaxing, invigorating way to relieve stress, anxiety and also muscular tension that can build up and accumulate in these areas, showing as eye strain, stiff neck and shoulders and even hair loss.  Massage increases blood flow to the area so circulation is improved, which brings in fresh oxygen and nutrients.  Improved oxygen to the brain helps with clearer thinking and concentration, as well as increased circulation to the skin and hair.
"Great massage which made me feel cocooned and safe. I particulary liked the fast 'shampooing' technique on my scalp which I tranced out to!"  Corrinne - gardener
What to expect
This is a seated treatment that lasts about 30 minutes and the techniques used help to promote deep relaxation and stress relief, restoring balance and calm both physically and mentally.  Though this is a clothed massage, if requested oils can be used on the upper body and scalp. 
Benefits
♦ Relaxes the muscle and nerve fibres of the head, neck and shoulders
♦ Eases pain and discomfort from muscle spasms and restrictions
♦ Slows down and deepens breathing
♦ Slows down heart rate which may help to reduce blood pressure
♦ Reduces stress and anxiety, encouraging rest, relaxation and sleep
♦ Elevates the mood, and helps with relieving emotional stress
♦ Helps relieve tired eyes and eye strain, by relaxing and soothing eye muscles
♦ Improves circulation and nutrition to the skin and the hair
♦ Creates a feeling of balance and calm