RELAX AND REVIVE THERAPIES
Your body is designed and programmed to heal itself.  Manual therapies are all about helping the body to accelerate that process wherever possible.
Whether you are someone who loves their feet being massaged, prefers not to undress for treatments or is short on time or money, I hope that I offer something for everyone.
Massages can be given clothed or unclothed, without or without oil and seated or on a massage couch.  The treatments are tailored to you and what you are comfortable with, even down to the space you have available - whether a house, a flat or a houseboat!
So if you want a pampering treat, some help with a particularly troubling issue, or symptom management please get in touch to see how I may be able to help.
Treatments are tailored specifically to you, using a no-routine approach. Perhaps you would like a relaxing full body massage, or something more focused to help resolve a particular issue.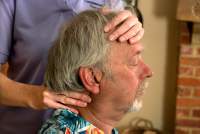 A 30 minute seated, clothed, massage to the upper body, hands, arms, shoulders, neck, scalp and face.  Deeply relaxing.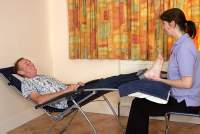 An ancient, natural therapy where zones on the feet relate to zones in the body, so the body is treated as a whole. A good treatment if you are unable to have massage.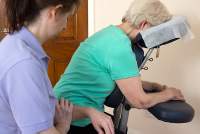 This is a clothed, 30 minute upper body massage, carried out in a comfy ergonomically designed chair. Great for those of you who are limited on time or space.  Shorter massages can also be given at events or in the office.

I am a mobile Foot Health Professional, providing basic practical care and advice to keep your feet in tip top condition. Essential if you have mobility/flexibility issues, or for those whose  feet are considered 'high risk', i.e. more susceptible to infection or longer healing.